I am very proud to show you my new Freebie! I have made this Scrap in coorporation with my good friend Wilma
Hopefully you all like it!
When you have made a layout with this scrap or a tutorial, please give us an e-mail with your creations, we really like that!
Enjoy scrapping!!!
Please leave some love in my guestbook when you download the scraps!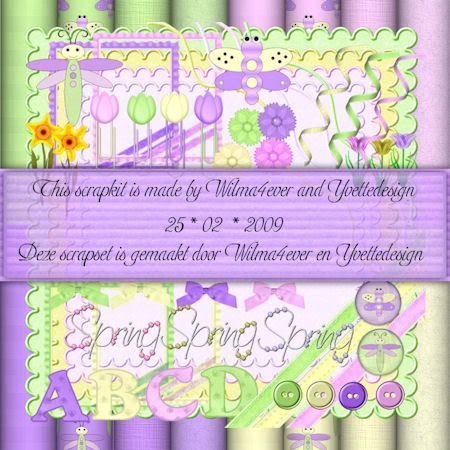 The Spring Kit contains
16 Papers
4 Scalloped Papers
4 normal ribbons
4 Frames
4 Flowers
4 Tulips
2 Dafodils
4 Curled Ribbons
4 String
2 Butterflies
3 Words on a wire
4 Tulip Paperclips
4 Buttons
2 Glassbuttons
4 Bows
4 Different Colored Alpha's
You can download the scrap by clicking the download button below
Hier is de nieuwe freebie.
Deze scrapkit is gemaakt samen met mijn goede vriendin Wilma.
We hopen dat jullie de set heel erg leuk vinden.
Als je een layout of een bewerking of lesje hebt gemaakt van deze scrapkit, stellen we het op prijs als je ons via de mail laat zien wat je ervan gemaakt hebt.
Dat vinden we namelijk heel erg leuk.
Verder wensen we je heel veel plezier met scrappen.
En laat een berichtje achter in me gastenboek dat word erg gewaardeerd.